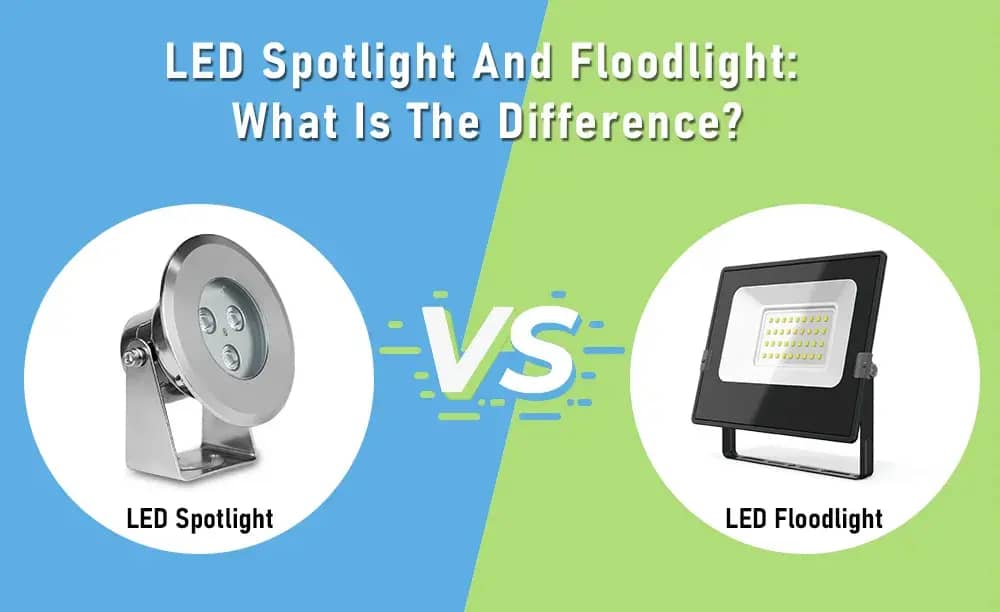 Are you looking for waterproof LED lights to decorate ponds, water parks or landscape pool? Don't know what light is best for your pool? Read this blog, and we will discuss the differences between LED underwater spotlights and LED floodlights, give the full guide to buying waterproof LED lights, and give our professional advice about maintaining your LED lights. Now, let's go for it!
Introduction
Underwater spotlights and floodlights are highly popular because they bring great convenience for people and make landscapes more beautiful at the same time. LED spotlights are small, waterproof, and anti-dust. They have good heat dissipation and can stand high winds, heavy snow or rain, and other harsh weather, so they are used flexibly in many underwater lighting places.
LED floodlights are ideal for public lighting environments because of their large beam angle and wide range of illumination. For this reason, LED floodlights are often used in places including waterparks. Now, let's take a closer look at LED underwater spotlights and floodlights.
What Is An LED Floodlight?
LED floodlights have wide angles, so they can light a wide area. With the growing technologies, materials used in LED floodlights are better than before. So the application range of LED floodlights is more comprehensive. Outdoor LED floodlights account for a big part of the market of outdoor LED lights.
Building sites and factories are the most common places where LED floodlights are widely used. The appearance of LED floodlights highly improved working conditions. They have, to a large extent, guaranteed workers' safety.
Besides factories and construction sites, many other places also need LED floodlights to light some areas. For example, you can use floodlights to light your billboard to make it stand out at night. Roads, tunnels, bridges, waterparks, etc., are also the applications of floodlights. Floodlights guarantee people's safety and highlight the city.
What Is An LED Underwater Spotlight?
LED underwater spotlight is a special kind of spotlight that can be installed underwater for illuminating pools, fountains, aquariums and other underwater environments for accent lighting. Unlike ordinary spotlights, LED underwater spotlights are designed to be waterproof and able to withstand underwater pressure and corrosion.
LED underwater spotlights usually use high-brightness LEDs as the light source, which can provide bright and long-lasting light. They offer low power consumption, long life and vibrant colors, making them ideal for lighting underwater environments.
The Difference Between LED Floodlights And LED Spotlight
Working Environment
Floodlights are typically used to illuminate the water surface and surroundings rather than underwater. Floodlights can be mounted on walls or brackets to provide a wide beam of light that illuminates the entire water area. This method of lighting provides a bright, comfortable environment for your entertainment. Underwater spotlights, on the other hand, must be operated underwater.
Beam Angle
The beam angles of LED floodlights and spotlights are also very different. LED floodlights have wider beam angles, such as 90° and 120°, whereas LED spotlights usually have beam angles of no more than 60°!
Wide beam angles provide LED floodlights with a wide, diffuse beam for illuminating large areas. Narrow beam angles for LED spotlights provide a focused beam of light that is used to illuminate specific objects or areas, such as sculptures, rockeries, and so on.
What Are Good LED Spotlights?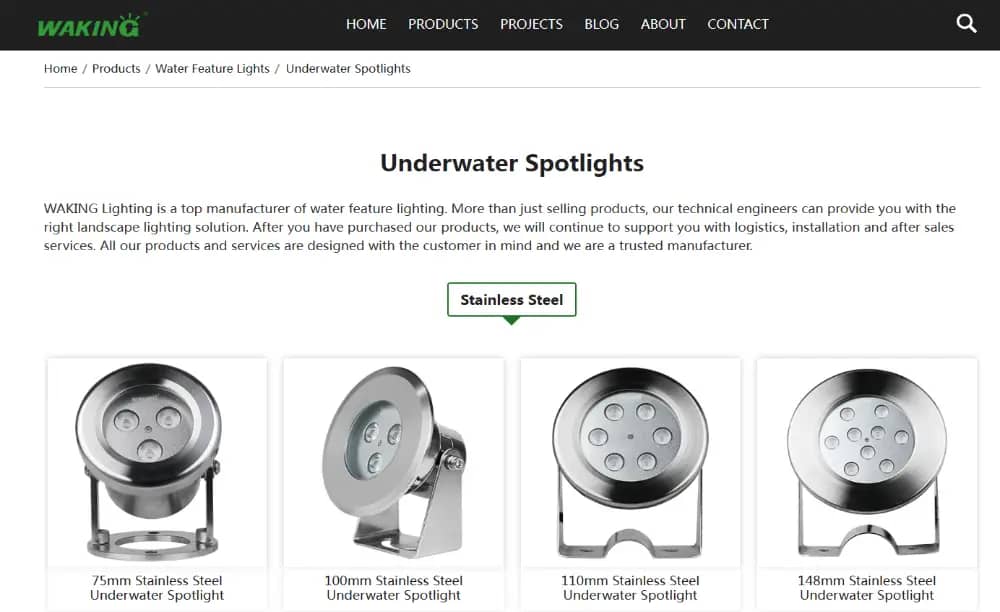 As a professional underwater LED light manufacturer, we are confident with our outdoor LED spotlights. So we will give professional advice to help you buy your LED outdoor spotlights. For spotlights, waterproofness and dustproof performance are very important. It would be better to buy spotlights that meet the IP68 standard.
The materials of a spotlight are also an important factor in choosing good lights. At present, stainless steel is a popular material in the market for underwater LED lights. Today's stainless steel has two main types: SS316 and SS304. SS304 spotlight is economical. It can save a great amount of money for you if you need bulk outdoor led spotlights. SS316 lights are higher than SS304 in price. However, SS316 lights have better corrosion resistance compared with SS304.
SS304 and SS316 are both enough under ordinary usage. If you pursue more excellent performances, we highly recommend you choose SS316 LED spot lights.
For spotlights, a good light lens is also necessary. When you search for underwater lights on Amazon or Aliexpress, you will see there are tempered lenses and PC lenses. Tempered lenses and PC lenses both have good performances in heat or low-temperature resistance. They work well in other respects, such as corrosion, impact, and aging resistance. Hence, you can choose one of the two lens covers according to your preference.
Tips For Maintaining LED Spotlights
Our LED spotlights have a three-year warranty. We designed them for swimming pools or landscape pools. To be our customers, you wouldn't worry about what you should do if the spotlight is damaged. Because we will provide full solutions for you. If there is damage, and you have no idea what you should do, just contact us. Our assistance will help you as soon as possible.
You can read on if you love to deal with it by yourself. We listed some tips for lasting your LED spotlights' life.
First, do not let your spotlight lay idle for a long time. If you don't need these spotlights now, it will be better to turn them on sometimes.
Second, keep the spotlights clean. It is wise to keep your swimming pool clean and keep the area where you installed spotlights clean. If you do that, it will help you get more durable spotlights.
Third, when there is damage, do not try to repair it by yourself if you are not totally familiar with LED lights. Asking a professional is the best way.
Fourth, do not change the inside structures optionally. Fifth, do not often turn the lights on and off in a short time.
Are You Looking For An LED Spotlight Manufacturer?
There are so many LED spotlight manufacturers in the world. Hence it is hard to choose a reliable one. As a professional LED spotlight manufacturer, we would like to recommend ourselves to you! We are Waking company, a leading underwater LED light manufacturer and supplier from China. Our firm in Guangdong province, which has China's main ports, has a big advantage in exporting business.
We deliver your order on time and offer excellent pre-sales and after-sales service.
Our company's outdoor and indoor LED lights are popular due to their high quality. All the underwater spotlights meet the IP68 standard and other authoritative organizations' certification standards, like ISO and CE.
Among our customers, we have got a high satisfactory rate. If you have any questions or you need a price list of our products or our company information, please feel free to contact us!
Are you looking for a professional underwater light supplier? Contact us now!