Customer identity
Amadeo is a director of a large pool lighting company from the Middle East, and his company has a large market share in the local and surrounding areas. Amadeo often flies to pool light exhibitions around the world to search for new products. At an exhibition, Amadeo met WAKING which is an underwater lighting manufacturer, and felt interested in WAKING's products.
Local market
Most swimming pool lights in the Middle East are highly homogenized and the competition is very fierce. Customers are very sensitive to price when it comes to common styles of pool lights. They often compare several products of the same design and finally choose the lowest price.
Dealers can only keep cutting down prices to acquire customers. Too low prices lead to very little profit for dealers. Some dealers try to choose suppliers with low quotations, which also causes many quality problems. Customers complained about the high failure rate of lights, while dealers complained about too little profit, and the whole market was very chaotic.
Client needs
The sales strategy adopted by Amadeo's company is different from other companies. They are constantly developing new high-end products, avoiding the predicament of low quality and low price. They require high-end lights and high quality, and no similar products in the local market.
WAKING told Amadeo that the samples he saw on exhibition were high-end stainless steel swimming pool lights developed exclusively by us, and there are no imitations on the market yet. WAKING also recommends several other products that are rarely available on the market.
Purchasing experience
Amadeo quickly signed a contract with us to customize several pool lights. We have produced high-quality products according to Amadeo's requirements to meet international standards. Amadeo was very satisfied with the inspection results and started to promote it in the local market.
After a period of time, some customers gradually began to pay attention to these distinctive new products and began to buy and try them out. Amadeo noticed the sales potential of these products based on market feedback, began to purchase more products and increased investment in promotion.
Two years later, the new products developed by Amadeo completely opened up the market, and sales continued to grow. Profits are substantial due to high product pricing. Below is a recent purchase order from Amadeo.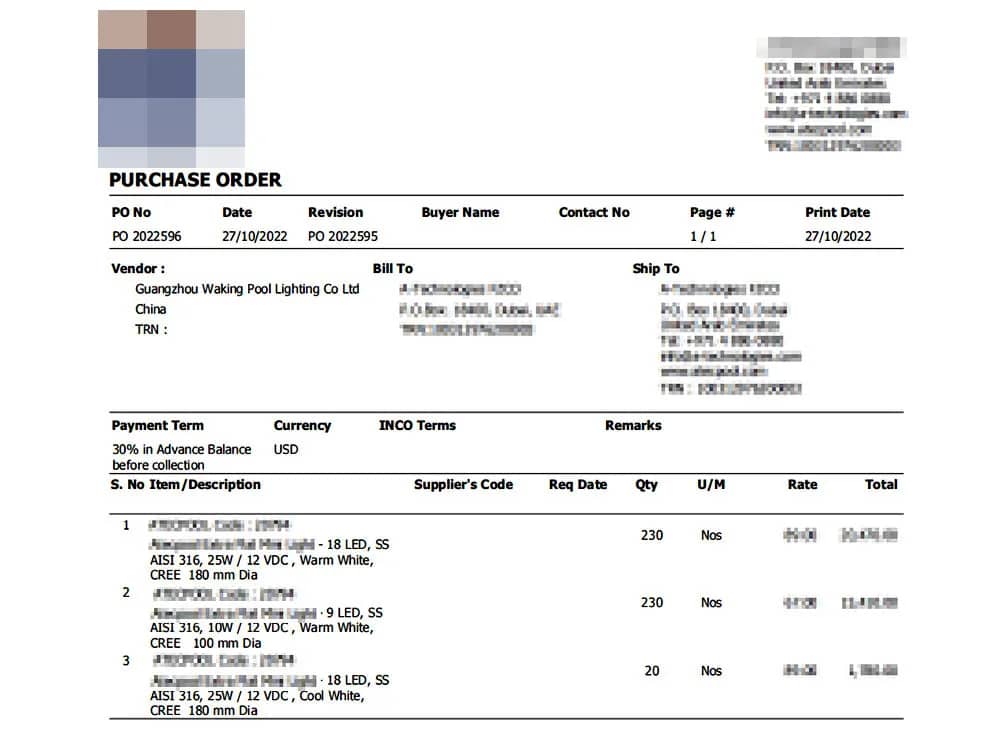 Installation experience
WAKING pays great attention to the actual sales and uses the experience of products in the local area, and will regularly check with customers. Amadeo provided us with a local installation case, and he and his customers were very satisfied with our products.
Are you looking for a professional underwater light supplier? Contact us now!