HJ-0040
With full touch panel and touch handle, it supports mobile remote control.
Control Ways: Screen touch remote, mobile App
Remote Control Radio Frequency: 868MHz
Support WiFi and Bluetooth connection in Android and iOS system
Built-in antenna, 30m wireless remote control range in open areas
Remote control via mobile App
HJ-0040 is a high-performance WiFi & Bluetooth intelligent lighting control device with a maximum load power of 600W, which is anupgraded version of the HJ-0041 controller. In addition to the basic control method of HJ-0041, remote intelligent control can be realized by connecting WiFi and the mobile device App developed by our company, and short-distance intelligent control can be realized through Bluetooth when the network is not available. Our App is compatible with smart devices of iOS and Android systems. You can intelligently adjust the lighting color, mode, switch and other functions by downloading the App through App Store or scanning the QR code. Users can also set the
functions of timing of turning on and off the lights according to personal needs.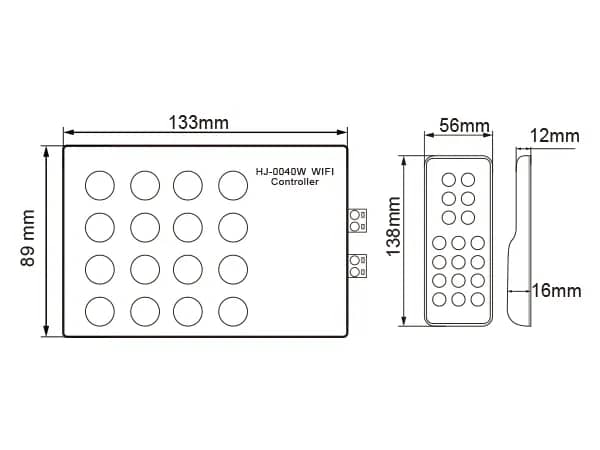 HJ-0040 size
HJ-0040 and underwater lights wiring diagram