When we talk about the sun and the moon, you think they are in the sky. This time, however, the "SUN" and "MOON" we are talking about are on the ground. They are on the private estate of Qatari tycoon Hamad.
Customer Identity
Hamad is a rich man in Qatar who enjoys life to the fullest. In addition to luxury yachts and private jets, he owns several private estates. He has even designed and decorated each estate in a different style. If he stays in one place for a long time, he gets bored.
Hamad spent the money to build a new estate, an estate with many new and unique attractions. Hamad would sometimes come up with his own ideas and the designers and architects figured out how to make them happen.
Client Needs
Not only is Hamad very excited about the estate, which he provided the idea for, but he will also be naming some of the attractions himself.
"I wanted something that would shine like the sun and moon in my yard," said Hamad. Despite the novelty of Hamad's idea, the clever designer made it happen. The designer created two circular water features, one large and one small. Hamad named the large one "Sun" and the small one "Moon. The two themes of "Sun" and "Moon" will be the two dazzling pearls of Hamad Estate.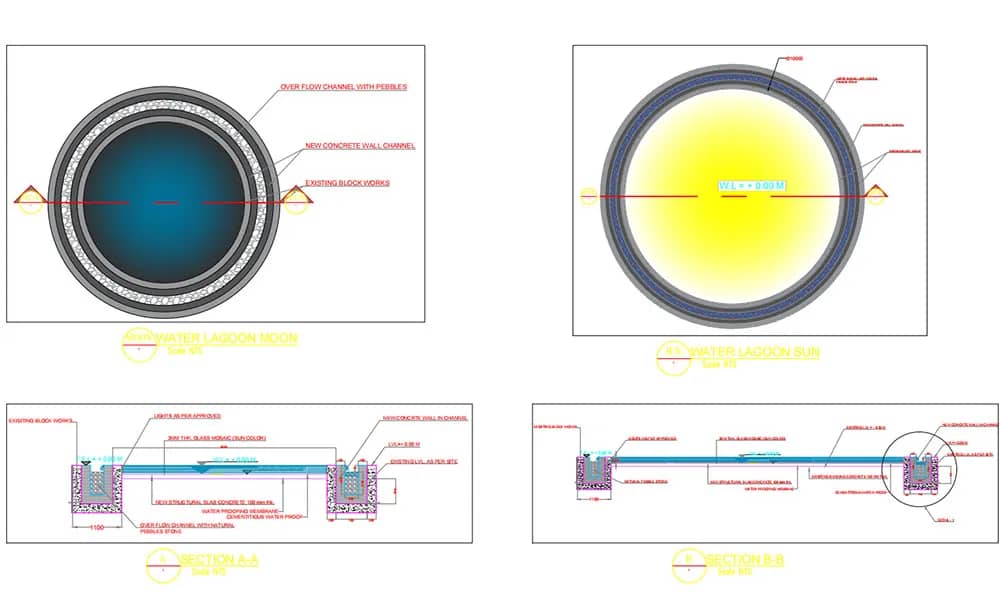 Design drawing of water feature pool
Construction was quick and smooth. Lighting was key to making them look dazzling and pleasing to the eye. Hamad's personal assistant compiled the following needs based on the designer's recommendations:
"SUN" requires warm white light with consistent emission color
"MOON" requires the pure white light
High-end and exquisite
After installation, it will integrate with the pool wall
Not only must it be durable, but it must also be heat resistant
The personal assistant contacted many underwater light manufacturers to find suitable products, including WAKING Lighting.
Purchasing Process
We introduced this product to Mr. Assistant:
This item with SS316 material and with an outstanding appearance looks like a work of art
Adopt CREE/OSRAM high quality LED chip. Not only the quality is stable and durable, but also the luminous color is pure
Selected, which are corrosion-resistant and bump-resistant, and have excellent scratch resistance
It supports embedded installation and perfectly combines with the pool wall
High temperature resistant, it can work normally in the ambient temperature range of -20 to 45°C (-4 to 113°F)
Various beam angles options: 15°/30°/45°/60°
Providing a three-year warranty service, if needed, can even make five-year warranty
After various comparisons, WAKING's HJ-RC-SS160H best meets Mr. Hamad's needs. Mr. Assistant further contacted us to understand the quotation, delivery date, and other information. Our response was quick and professional, the assistant was very satisfied and placed the order quickly.
Installation Effect
In fact, installation was completed quickly after delivery, sooner other renovation projects also ended successfully. Hamad toured his estate with great interest.
As night falls, the sun and moon shine brightly in the evening. They have undoubtedly become the most striking presence on the estate. After seeing them, Hamad was very happy.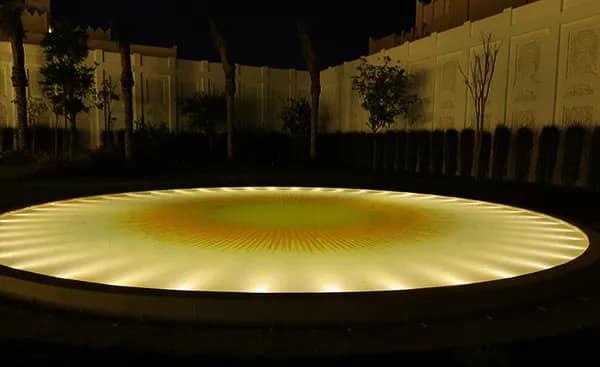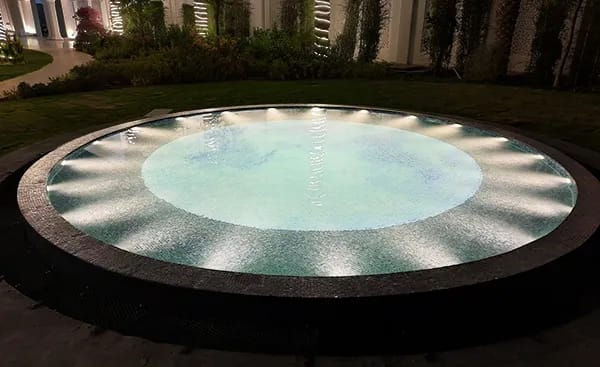 The sun radiates warm white lights and the moon radiates white lights
"The sun and the moon are in my house, I'm such a genius!" Hamad said proudly.
Are you looking for a professional underwater light supplier? Contact us now!